Jackie and Pat Riley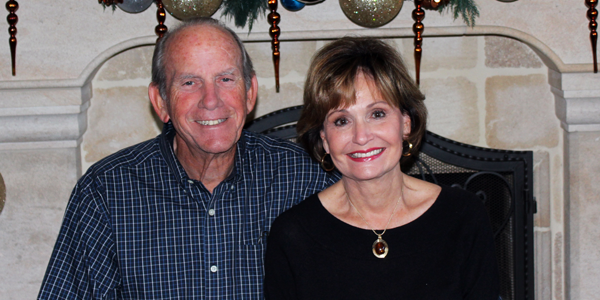 Jackie and Pat Riley have generously supported NAM for nearly three decades. It all began when Jackie started volunteering one day a week in the Assistance pro-gram at NAM, through her involvement with the Cypress Woodlands Junior Forum.
In the years that followed, Jackie expanded her volunteer efforts to include Meals on Wheels, Northwest Bible Church liaison to NAM's Back to School and Holiday Projects, and even serving on NAM's Board of Trustees. Pat served as one of the first members of the NAM Endowment Board, and was chair of that board when they launched the first Endowment Dinner in 2005. Both Jackie and Pat have also been very involved with Jeans & Jewels: Jackie co-chaired the Gala in 2004 and 2013, the luncheon in 2006, and she and Pat were named honorees of the Gala in 2009.
So in planning for the future, Jackie and Pat graciously included NAM in their will.
"Jackie and I both want to see NAM continue to grow after we're gone," says Pat. "We've invested ourselves in the work of NAM for 30 years, and we just want to make sure it continues." Jackie says that her volunteer efforts have helped her see firsthand the difference that NAM makes in our community. "Delivering Meals on Wheels is a very humbling experience," she says. "To go to people's homes and see them waiting for their food, often lonely and in poor health.... And at the food pantry, it's amazing how people come every day and NAM never turns anyone away."
"Every program is important," Pat adds. "Everything NAM does is worthwhile."
For anyone who has considered getting more involved with NAM, Jackie and Pat encourage them to take a tour and see the services for themselves.
"I don't know anybody who has taken that tour," the Rileys say, "and not come away wanting to get involved." (Featured in Winter 2016 NAM Endowment Fund Newsletter)