Margie and Rick Crump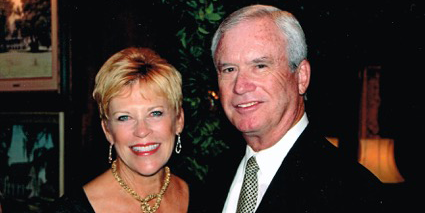 For more than 30 years, Margie and Rick Crump have been investing their time, resources and creative ideas into NAM. Their investment has paid dividends in the lives of thousands of Neighbors in Need.
Margie began volunteering for NAM in the 1980s, as a member of Cypress-Woodlands Junior Forum. She served as a counselor in the Assistance program, volunteered at the resale store, and later delivered nutritious lunches to seniors through Meals on Wheels.
In 1998 Margie was asked to join NAM's Board of Directors. "At the time, the most NAM had ever made on a fundraiser was $17,000," Margie says. She recalls saying, 'We can do better than that,' and the idea for Jeans & Jewels - A Texas Size Party was born.
The first Jeans & Jewels Gala was held in 1999 and drew a sold-out crowd, raising more than $160,000. The next year raised $240,000-and the event has continued to be NAM's largest fundraiser every year since.
"It just showed our community wanted to support NAM," Margie says.
Investing in the Future
Along with encouraging the community to support NAM, Rick and Margie have been generous donors for many years. Recently they established a fund within the NAM Endowment Fund that will make an annual distribution to NAM, with half of the money going to the Children's Clinic and the other half to a priority need designated by the Board of Directors.
"It was a gift we wanted to make over and above our annual giving," says Rick. "The idea was to create a mechanism our family can add to over the years. This will assure continuous support for NAM once Margie and I aren't here to write a check."
Rick currently serves on the NAM Endowment Board, and recognizes the importance of the Endowment Fund to ensure NAM will be here for generations to come.
"I do believe people look for opportunities to leave a legacy," says Rick. "You get to a point in life where you don't necessarily have to worry about paying off the mortgage, your kids are educated, and you might have a few resources that could be put into an endowment. It's an important part of the NAM organization, and I've been excited to work on it."
A Family Tradition
Rick and Margie are delighted their daughters, now grown, also give of themselves to make a difference in their communities. Their oldest, Richelle Birdsall, lives in the FM 1960 area and serves on NAM's Jeans & Jewels committee; daughter Andrea Streight lives with her family in Rocklin, California, and volunteers with local charities in the Sacramento area.
"They heard us talk about NAM growing up, and now as adults they understand what a special place NAM has had in our family's history," says Rick. "I'm extremely proud of that."
The Crumps are true ambassadors for NAM and have encouraged many friends, neighbors, and business associates to become involved. For those not as familiar with NAM, they suggest taking a tour to see firsthand the difference NAM makes every day.
"The need is there, it's always been there, and it's growing," says Rick. "It would be hard for anybody to be exposed to the work NAM does, and not feel they make a very important contribution to our community."
"Everybody who goes through NAM is so impressed," Margie adds. "We've seen the many wonderful things NAM does, and we strongly support their mission. Our family has been blessed, and it is our wish to share those blessings with others."