Linda and Harlan Martens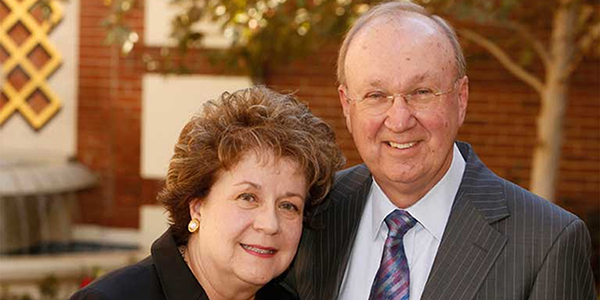 Linda and Harlan Martens have been involved with NAM for more than 30 years. As members of Kinsmen Lutheran Church, one of NAM's founding congregations; they saw the story of NAM come together from the very beginning. Their first involvement came when they donated a washer and dryer to the resale store.
After years of supporting NAM through their time and resources, the Martens have made an even larger investment: a gift that endows the President & CEO position of Northwest Assistance Ministries.
"Annual support is important," says Harlan. "But if you have an endowment that provides continual support year in and year out, that's a nice strong base to rely upon. Also, endowing a position that will always be there allows NAM to have a higher percentage of current giving go to programs and services."
In recognition of their gift, the position will now be named the Linda & Harlan Martens Endowed President/CEO.
The Martens structured their gift as a combination of a current gift, plans for future gifts and a final gift upon their passing.
"Part of the thinking behind it was to be supportive of NAM both now and into perpetuity," says Harlan. "But through doing this we also wanted to let others know about opportunities like this to support NAM."
The Martens believe it is important to support the community not only financially, but also through sharing time, skills, and abilities.
Harlan served on NAM's Board of Trustees from 2002 - 2011, including two terms as Chairman. He and Linda now volunteer as drivers for NAM's Meals on Wheels program, delivering meals to homebound seniors and disabled adults.
Linda also served as Kinsmen Lutheran's coordinator for the Interfaith Homeless Network (IHN) program at NAM, which serves families who are homeless. She remembers an IHN retreat when a family spoke about the difference the program had made in their lives.
"The oldest son gave a red glass angel to each of the coordinators," Linda recalls. "I still have that angel. It sits over the kitchen sink, and I look at it daily. I think about their family, and wonder how they are today."
Firsthand experiences like that have given Linda and Harlan a chance to see NAM's programs in action. That has motivated them to stay involved, and to encourage others to be involved as well.
"We have been very blessed in our lifetime, and we believe if you are blessed you need to pass those blessings on," says Harlan. "We are involved with NAM, we think NAM does a fabulous job, and that is a perfect way to give back to the community in which we live."
"If you support NAM during your lifetime, you obviously think it's doing an excellent job," Harlan continues. "So think about when the time comes that you're not here. A planned gift can continue that support even after you're gone. That's important, in order for the community you've lived in to continue to benefit from your presence."
"There's great satisfaction in knowing you've helped someone during a very difficult time in their lives," Linda adds. "NAM is a well-run organization, so it's a pleasure to be part of it."