Darlis and Tom Fuller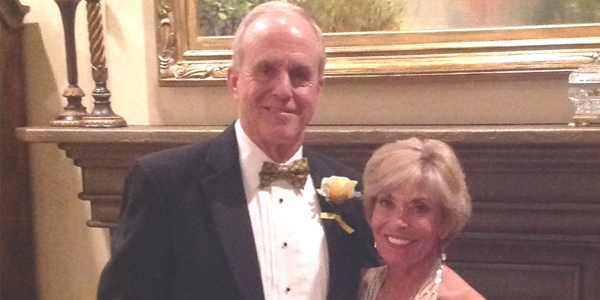 Giving has always been a way of life for Tom and Darlis Fuller. For many years they spread their charitable gifts among numerous groups, but recently they decided to focus on a few organizations in order to make a more substantial impact. One of the ways they are doing that is through a planned gift to the NAM Endowment Fund.
The Fullers have lived in the Champions area since 1976, and have generously supported NAM for many years. Darlis first became involved when friends invited her to be part of Meals on Wheels; later they attended the first Jeans & Jewels Gala and have been regular supporters of the event ever since.
In recent years, Darlis has encouraged Tom to become more involved with NAM. After moving his office out of downtown and closer to home, Tom freed up enough time to do just that. He now serves as chair of the Planned Giving Committee on NAM's Endowment Board.
"I'm excited about my term" says Tom. "I'm looking forward to building a good team, and coming up with a game plan to inform the community about the planned giving opportunities available to them through the NAM Endowment Fund."
Tom and Darlis are leading by example in that regard, and have recently taken the steps to donate a generous portion of their IRA to the NAM Endowment Fund. They say it's a meaningful way for them to leave a legacy, care for the less fortunate, and perpetuate their values beyond their lifetimes.
"NAM has always been dear to our hearts," says Darlis. "There are a lot of great causes there — children, seniors, the homeless, battered women...Giving to the NAM Endowment Fund wasn't a big decision, we were just going to do it."
"Our financial advisor really helped us," adds Tom. "He said if you're going to give any kind of charitable gift, an IRA is the best way because it's taxed the most heavily." In some cases, Tom says, passing an IRA on to your children could result in both ordinary income and estate taxes. "We're charitably inclined to do something, and because of the tax benefits, the IRA for us was the most obvious choice."
But Tom encourages people to look at the many options available for planned gifts, including bequests, life insurance, charitable trusts and more. And he wants people to know that the NAM Endowment Fund is ready and able to accept those types of gifts. "I was always aware of NAM's annual fundraising for operations, but had never thought of NAM for a long-term gift," says Tom. "We're trying to spread the word that it's an option — and a really good option at that." (Featured in Fall 2014 NAM Endowment Fund Newsletter)