Cindy and Scott Chenoweth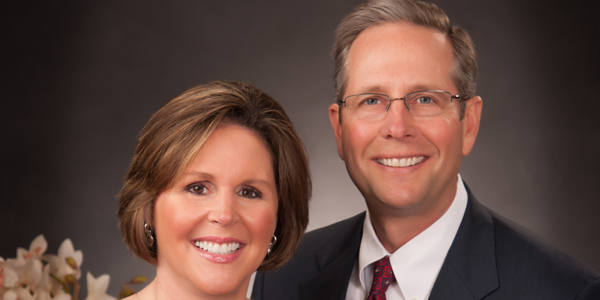 Scott Chenoweth has lived in the Champions areas since he was in junior high, and brought his bride, Cindy, to the area 20 years ago. They've known about NAM for years. But it wasn't until they took a tour that they realized the full scope of services NAM provides to the community.
Scott and Cindy's first involvement with NAM was through their church, which is a host congregation for homeless families in the Interfaith Hospitality Network. Later, Cindy volunteered on various projects at NAM through National Charity League, and also began serving in Meals on Wheels.
Scott was busy with his family's business, serving as President of Texas Welders Supply Co., Inc. One year he decided that, rather than giving cookies or pies to their customers at the holidays, they would make donations to local organizations in honor of their customers. After making such a donation to NAM, he was invited to take a tour, and became hooked!
"That's what turned me over to NAM," he says. "I've always thought NAM was a wonderful organization, but it changed our family's understanding of what NAM does. If you've not toured NAM, you need to — because once you do, you want to become an advocate for NAM."
After they sold the family business in 2011, Cindy encouraged Scott to use his time to give back to the community. NAM is blessed to now have Scott serving on the Board of Trustees as well as the NAM Endowment Board. Recently, the Chenoweths made a planned gift to NAM, designating part of their IRA's to the NAM Endowment Fund. The fund was created in 2000 to enhance the financial stability of NAM and to provide financial security for the future.
"That's our first step, and I believe it's the easiest and most obvious step," Scott said, explaining that it was as simple as making a beneficiary change. "We are still fairly young and we like the idea of planned giving because it doesn't affect anything we're doing today, but it does leave a legacy for our family beyond our lifetime, in the community we've lived in and loved for so long."
Scott and Cindy say there are many things they appreciate about NAM. "We like the philosophy of Neighbors helping Neighbors, as well as the efficiency of NAM — 90 cents of every dollar goes to program services," says Scott. "The other thing that's important to us is they lead people to self-sufficiency. Every program is focused on helping people break the cycle that they're in, become self-sufficient, and not pass that cycle on to their children."
"Cindy and I have been blessed in so many ways, and this community is part of the blessing we've been given," he adds. "NAM is a fantastic organization, and we plan to stay involved for many years to come." (Featured in Winter 2015 NAM Endowment Fund Newsletter)